The Immaterial Plane is thrilled to announce the release of Ryan Macklin's Backstory Cards for Foundry Virtual Tabletop, officially licensed from Galileo Games. We developed four Foundry VTT modules that let game masters and players incorporate Backstory Cards into their online tabletop RPG experience, and we're excited to release this epic project into the wild!
About Backstory Cards
Backstory Cards blend your characters and setting concept into an intriguing set of relationships and history. It's tailor-made for games where the player-characters already know each other—from fantasy adventurers to star marines, from supernatural beings who share the same city to global-hopping troubleshooters.
With Backstory Cards, players and GMs mesh their characters and the game setting together, coming up with unexpected history and engaging plot hooks. Backstory Cards work for every game system, genre, and setting—published settings and those invented by you!
About the Modules
All four modules are usable independently or together and with any game system developed for Foundry VTT. Mix the prompt cards however you'd like and select which tags you want to keep in play. They also include a customizable Setting Grid Scene to quickly add your setting elements for easy reference. Complete instructions, guides, tips and references are available as Journal Entries to help get you started. You can also download the Techniques Guide, which includes the instructions and a ton of additional advice, from BackstoryCards.com.
Core Deck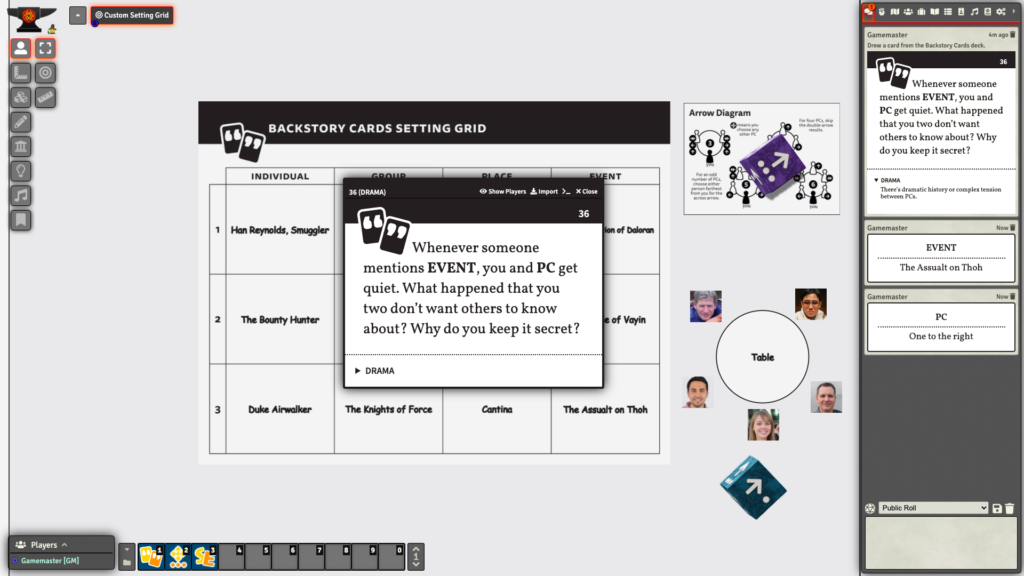 The original Backstory Cards Core Deck is available to get you started with 45 prompt cards that help you craft your characters' relationships with setting elements and other player characters.
Expansion Pack #1: Distant Worlds, Unseen Threats & Wicked Shadows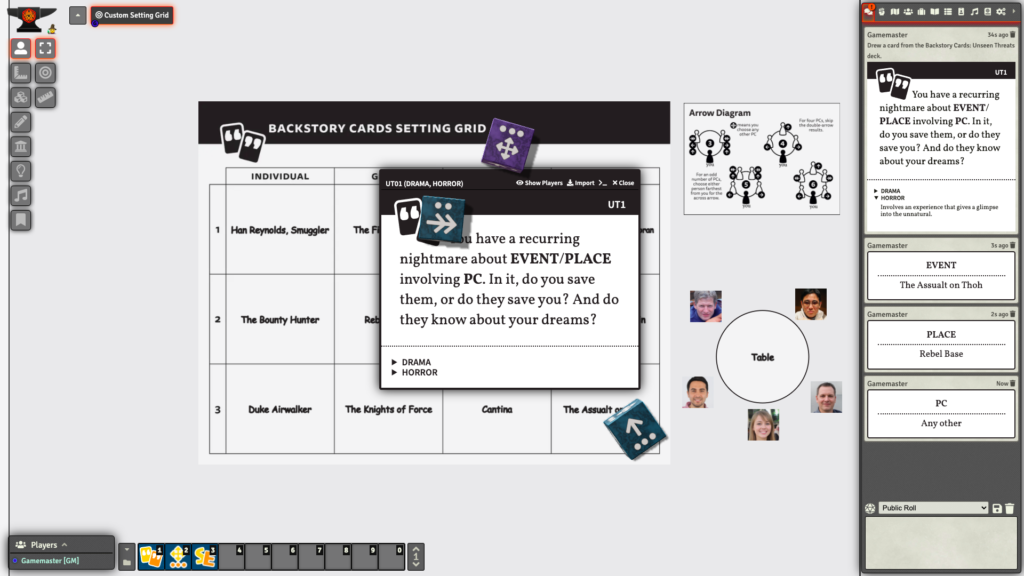 Expansion Pack #1 features three, 15-card sets of themed prompts.
Distant Worlds contains prompts that touch on vast travel, legends of lost civilizations, advanced technology, and other themes that fit hard sci-fi and fantastical space opera narratives.
Unseen Threats contains prompts for horror and investigation separately—you can incorporate just the horror cards for survival or action horror, the investigative cards for conspiracy or detective narratives, and of course blend them together for full investigative horror.
Wicked Shadows gets into themes of cyberpunk, something modern noir, and stories from the classic film noir era, as different expressions of the same core ideas: lawlessness, desperation, vigilantism, loose morality, and so on.
Expansion Pack #2: Even More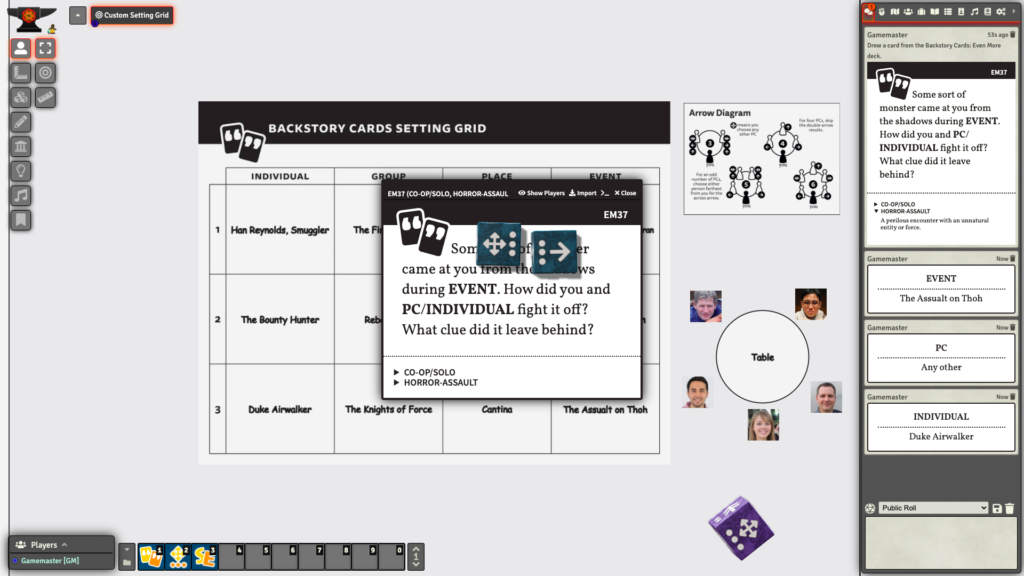 Expansion Pack #2 offers Even More, the 60-card deck from Backstory Cards, Vol. 2. Expand the connections between your character and the world with even more Backstory Cards prompts.
Expansion Pack #3: Setting Elements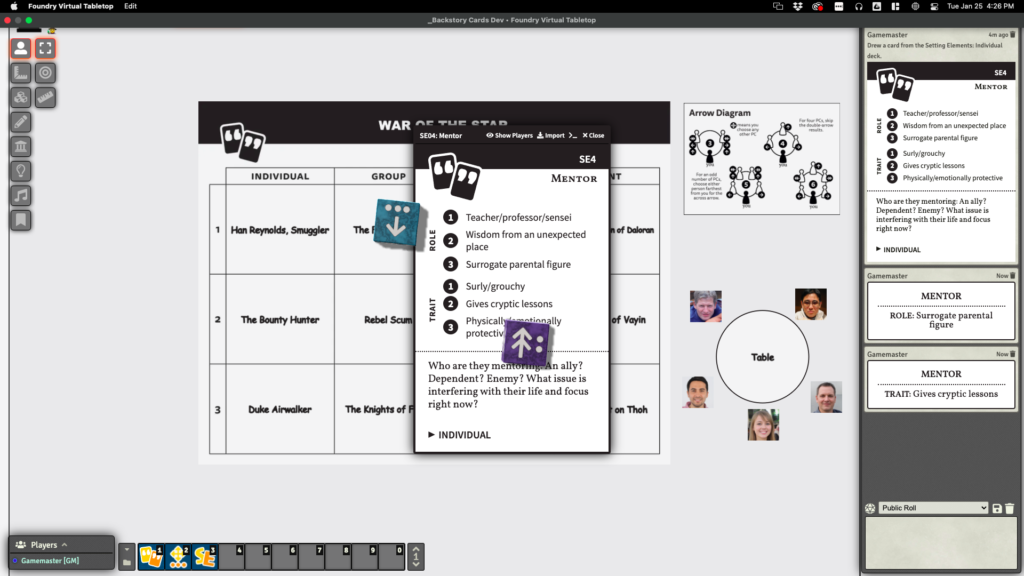 Expansion Pack #3—also originally from Backstory Cards, Vol. 2—contains Setting Elements, a completely different set of cards to help you create and expand on the setting elements that connect your characters. It also features cards for developing the motivations that drive the player and non-player characters.
License keys for the modules are available for purchase on itch.io and can be redeemed on foundryvtt.com.