Last night, Pinnacle Entertainment Group (PEG) hosted the 2020 Savage Worlds Adventurer's Guild Awards, and Jenn and I are honored to have been among an awesome selection of recipients for our little experiment Herbal Alchemy.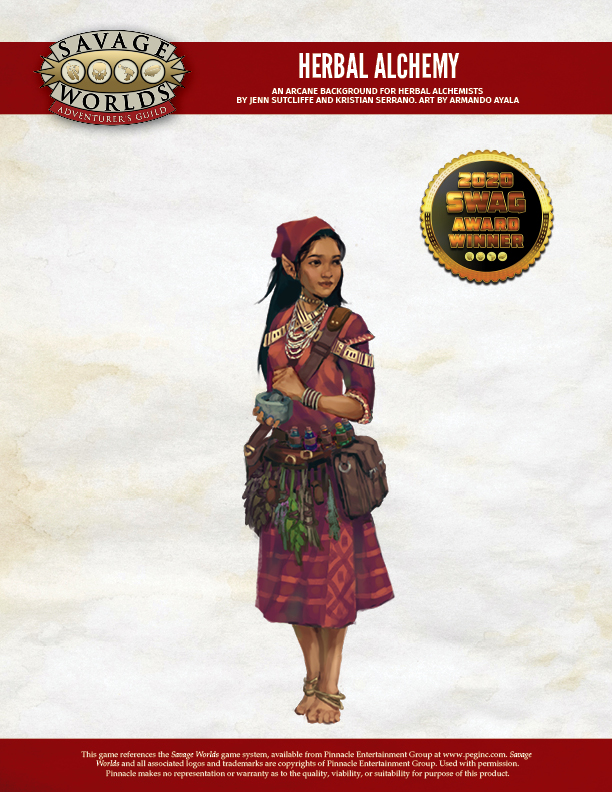 Herbal Alchemy is Jenn's brainchild. It came about as we were working on concepts for a setting we're developing currently titled Explora. You most likely haven't heard about Explora simply because we haven't talked about it openly yet. Explora is a new world awaiting discovery and… exploration. It's a world in which nature is inherently magical; both flora and fauna all have magical abilities and properties, and we wanted a way to express the idea of utilizing those natural components to create small, alchemical concoctions with relatively minor magical effects.
While we wrote the Arcane Background for a fantasy setting, we also wanted it to be flexible enough to suit other genres, trappings, and even a different list of powers. We're always delighted to see members of the Savage Worlds community referring to Herbal Alchemy as the go-to for this type of Arcane Background and adapting it to a wide variety of concepts such as scientific experiments using new chemical compounds, crystals harvested to power inventive arcane devices, or even scavenging a post apocalyptic wasteland to find parts to build a new weapon. To us, that means our experiment was a success, and we couldn't be more proud of the product.
We are forever grateful to everyone who purchased, reviewed, praised, and adapted our work as well as to PEG for the recognition. Thank you!
If you missed the stream, you can watch the embedded YouTube video below.
By the way, be sure to stay tuned for future updates and reveals about Explora.